Ginger, the "Horn Root"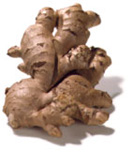 Its current name comes from the Middle English gingivere, but ginger dates back over 3,000 years to the Sanskrit sringaveram meaning "horn root" with reference to its appearance. In Greek it was ziggiberis, and in Latin, zinziberi. Although it was well-known to the ancient Romans and recorded as a subject of a Roman tax in the second century after being imported via the Red Sea to Alexandria, it nearly disappeared in Europe after the fall of the Roman Empire. Thanks to Marco Polo's trip to the Far East, ginger came back into favor in Europe, becoming not only a much-coveted spice, but also a very expensive one. Tariff duties appear in the records of Marseilles in 1228 and in Paris in 1296. Ginger was known in England before the Norman Conquest, as it is commonly found in the 11th century Anglo-Saxon leech books.

Ginger (botanical name Zingiber officinale and in the same family as turmeric and cardamom) is native to Southern Asia and has long been a staple addition to Asian cuisines.

It has a tan skin and flesh that ranges in color from pale greenish yellow to ivory. It has a peppery and slightly sweet flavor, with a pungent and spicy aroma. This extremely versatile root has long been a mainstay in Asian and Indian cooking and found its way early on into European foods as well. The Chinese, Japanese and East Indians use fresh gingerroot in a variety of forms-grated, ground and slivered-in many savory dishes.
Medical research has shown that ginger root is an effective treatment for nausea caused by motion sickness or other illness. Although very effective against all forms of nausea, PDR health officials do not recommend taking ginger root for morning sickness commonly associated with pregnancy. Ginger root also contains many antioxidants. Powdered dried ginger root is made into pills for medicinal use. Chinese women traditionally eat ginger root during pregnancy to combat morning sickness. Ginger ale and ginger beer have been recommended as "stomach settlers" for generations in countries where the beverages are made. Ginger water was commonly used to avoid heat cramps in the United States in the past.
In addition to providing relief from nausea and vomiting, ginger extract has long been used in traditional medical practices to decrease inflammation. In fact, many herbalists today use ginger to help treat health problems associated with inflammation, such as arthritis, bronchitis, and ulcerative colitis. In a recent study of 261 people with osteoarthritis (OA) of the knee, those who received a ginger extract twice daily experienced less pain and required fewer pain-killing medications compared to those who received a placebo. Although there have also been a few other studies of the benefit of ginger for arthritis, one recent trial found that the herb was no more effective than ibuprofen (a medication frequently used to treat OA) or placebo in reducing symptoms of OA.
Although it is too early to tell if ginger will benefit those with heart disease, a few preliminary studies suggest that ginger may lower cholesterol and prevent blood clots. In effect, ginger may protect the blood vessels from the damaging effects of blockage such as arteriosclerosis, which can lead to a heart attack or stroke. Again, however, it is too early to know the outcome of these initial studies.
Precautions
Despite studies showing ginger's aid for pregnancy nausea, some studies indicate that high amounts of ginger may cause miscarriages. High dosages could cause gastric problems and possibly ulcers. Before taking ginger, consumers should check dosages with a healthcare provider. Consumers should not ingest the whole ginger plant; it has been found to damage the liver in animals. Ginger root is not recommended for people with gallstones.
General use
Historically, ginger has been used to aid digestion. According to Michael Castleman in The Healing Herbs, ancient Greeks wrapped ginger inside their bread and ate it as an after-dinner digestive. This practice led to their invention of gingerbread. English society concocted ginger beer to soothe the stomach. In the 1800s, the Eclectics used ginger powder and tea for several digestive complaints, including indigestion, gas, nausea & infant diarrhea.
Beginning in the 1980s, several studies have confirmed that ginger is useful in aiding digestion. A 1999 German study reported that 12 volunteers who took 100 mg of ginger extract twice daily (when fasting and with a meal) experienced increased digestive movement through the stomach and duodenum.
A study in India published in 2000 reported the effects of ginger (in combination with other spices including cumin, fenugreek, and mustard) on pancreatic action in rats. During the eight-week study, the combination of spices stimulated several digestive enzymes in the pancreas.
The Japanese use ginger as an antidote for fish poisoning, especially with sushi. Ginger is thought to fight harmful intestinal bacteria (like Staphylococcus, Streptococcus & harmful strains of E. coli,) without killing beneficial bacteria. Ginger aids Lactobacillus growth in the intestines while killing the Schistosoma & Anisakis parasites.
Because ginger is an antibacterial, it can work against ulcers caused by Helicobacter pylori. Ginger creates an anti-ulcer environment by multiplying the stomach's protective components.
Ginger lowers cholesterol levels by impairing cholesterol absorption, helping to convert it into bile acids and then increasing bile elimination. In a 1998 study, rabbits were fed both cholesterol and 200 mg of ginger extract. The rabbits had a smaller amount of arteriosclerosis. Ginger also enhances blood circulation and acts as a blood thinner.
Ginger Tea made from dried or powdered ginger can relieve a cough. Ginger's pungent taste stimulates secretions that help relieve throat congestion. Preliminary studies also show ginger may have potential cancer-fighting properties. No definitive results have been reported and research continues.